Social Media Manager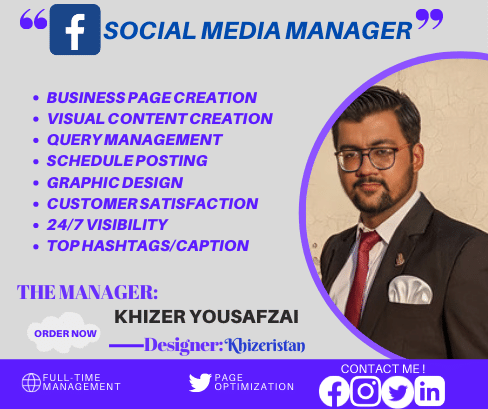 Delivery Time: Up to 7 days
My name is Khizer, and I am here to help you to stop worrying about your social media marketing efforts.
I know you know how important it is to your business, so let me tell you why picking me and my team is the better decision.
Here's your recipe for social media success:
First, you will need a big bowl.
Grab a Designer, peel off any ideas that they might have, and sprinkle your vision into them.
Then, get some content creators, and give them a nice big squeeze so they can get you some great content.
Make sure to marinade it all with a Strategy,
And finally, let it rest for 2-3 sleepless months, worrying if it will turn out well.
Or, you can just place an order, and we'll do it for you!
YOU WILL GET THE FOLLOWING SERVICES:
Page creation
Full-time page management
Content/Post Design
Expand your brand identity/awareness
Research on Trending Hashtags
Scheduling posts
Daily Posting
Excellent Communication
Fast Delivery
Dedicated 24/7 Customer Support
Engagement
Unlimited Revisions
Platforms:
Instagram
Facebook
Pinterest
Linkedin
Hit the message button and discuss your project before placing an order.
LET'S GET START A SUCCESSFUL JOURNEY TOGETHER.
Regards,
KHIZERISTAN