I will do dropshipping on etsy top products listing from amazon walmart 10 product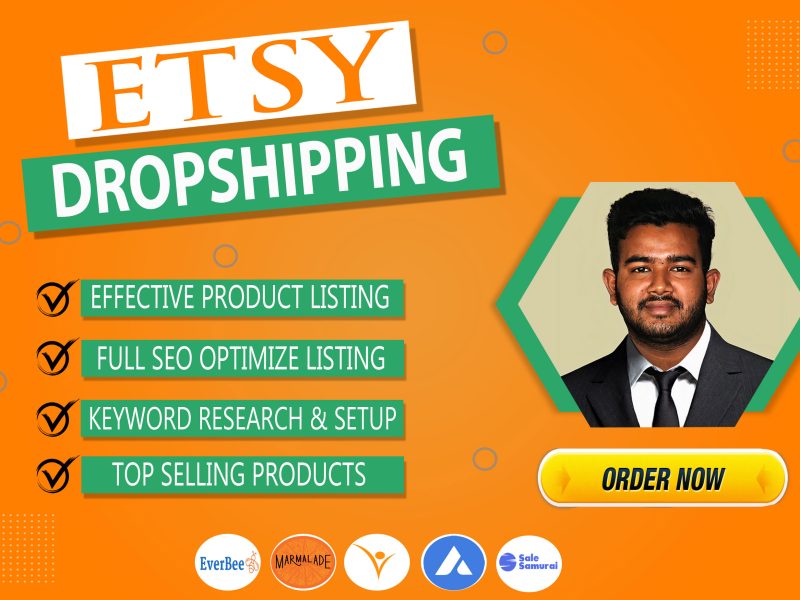 Delivery Time: Up to 3 days
I will do dropshipping in your Etsy store and I will source and list top-selling products from Amazon, Walmart, Aliexpress or any other site.
Do you have an Etsy dropshipping store? Are you not getting profitable products to sell on your etsy store? Then, here I'm. I'll help you to start your dropshipping business on etsy. And I'll find best-selling products for you from Amazon, Walmart, and any of your suggested sites. And list them on etsy with full SEO optimization. Just give me your login details. I'll do the rest.
I'll fully optimize your listings with Images, Titles, Tags, Descriptions, Attributes, and production partners so you should be able to rank within a week.
What I'm Offering
Best Dropshipping Products
Effective Product Listing
Keyword Research
Optimized Product Title
Setup Keyword in Description
13 High Searching Tags
Product Attributes
Product Sheet Management
Marketing Plan & Strategy
Why Me:
Increase your Selling
High Profit Margin
Quality Work
Fast & Accurate Service
Data security and confidentiality
Please contact me before ordering if you have any queries.
Hire me and Establish your side business.