setup facebook ads campaign, instagram ads, and any social media ads campaign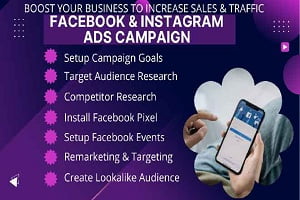 Delivery Time: Up to 3 days
Facebook is the top social media, with 3 billion daily active users. You can easily target your potential customers through FB marketing to increase sales and website traffic. Facebook AD is the most ideal and cost-effective way to reach targeted customers and convert them into your buying customer.
I am Mohaiminul Islam, a Professional Digital Marketing expert. I have been working as a Digital Marketing expert for the last 1.5 years and would love to offer my services to you.
Campaigns that I can run & Manage:
1) Website traffic/click
2) Conversions ads
3) Post Engagement
4) Lead Generation
5) Message
6) Pixel tracking
7) Videos views
8) Post boosting
9) Brand Awareness
I will provide:
1) Run & Manage the Campaign
2) Targeted audience research
3) Instagram ads design
4) Ad content creation
5) Research, plan & strategy
6) Facebook ads campaign
7) Facebook marketing & FB advertising
Other Experience:
Google Ads
Google Shopping Ads & Fix Google Merchant Center Suspension Issue
Shopify Dropshipping Ads
Linkedin Ads And SMM
*NOTE* Buyer has to pay the ad cost.
My main goal is to provide high-quality traffic to your business. Sales, Leads, etc. depend on your product